"Angelito performed with a complete musical understanding and technical control which brought out the delicately beautiful and powerfully majestic attributes of his concert selections."
- Scott Anderson, In Tune- Arizona Classical Guitar Society

"Angelito Agcaoili, a national treasure when it comes to classical guitar playing, played to an awe-struck audience last night at the Cultural Center of the Philippines' Little Theater."
- The Philippine Daily Inquirer

" Mr. Agcaoili's performance was clean, spirited, and inspired, a culmination of his conviction for the music of his country and the years which he dedicated to research and being an exponent of the music."
- Raul Jose, In Tune- Arizona Classical Guitar Society
"This CD shows off the versatility of the composers and the fine performance of Angelito Agcaoili...
this makes for a very interesting 56 minutes of new music that is never too astringent."
Chris Dumigan, Classical Guitar (United Kingdom), February 2008
"These compositions demonstrate the excellent quality of guitar music by Filipino composers."
Gendai Guitar (Japan), January 2007 No. 508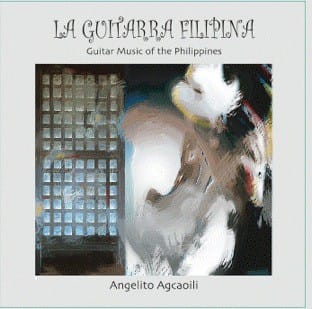 La Guitarra Filipina:
Angelito Agcaoili, guitar
Works by: Aguilar, Alcoy, Custodio, Dadap, Leon, Kasilag, Valdez
(2002)

It is seldom that I come across a recording as fresh and surprising as
this one. Here is a recording of music that is entirely new to me, and
of very high quality also. Every track on the CD save one (17 out of
18) is a premier recording of a work by a Filipino composer. Most of the
composers represent the current generation of writers for the guitar,
but there are also two born early in the twentieth century whose works
are heard here.
In style, the compositions are generally conservative and extend from
arrangements of traditional Filipino folk songs to abstract works that
are tonal but somewhat exploratory. There is a Spanish influence at work
in some of the pieces, not surprising considering the strong presence
the Spanish culture has had in the islands. Some of the compositions
(the Visayan Seranades of Michael Dadap, for example) borrow
heavily from folk music styles from various islands of the country. The most
compelling compositions were those of Bayani de Leon. His Kapilas Na
Giting is a very powerful work, despite its brevity. It has a modal
sound reminiscent of some of the works of Alexander Tansman, and is
propelled by a relentless energy. I also enjoyed the the two pieces by
Lucrecia Kasilag. Her Prelude Etnika and Toccata  had an
Asian air about them, especially the prelude, with its use of the
pentatonic scale. Jose Valdez' Himig bilang 4 is a charming, wistful
piece with a melancholy melody.
Angelito Agcaoili's performances of the pieces on this CD are
straightforward and presented with a pleasant tone and a clear sense of
phrasing. He is obviously strongly committed to the repertoire, and this
commitment is evident throughout the disc. There is no information as to
whether the music played here is published or not, but I would hope that it
is available, since much of it is very good. This is a laudable project
and a very enjoyable CD.

James Reid
GFA Soundboard Magazine (USA)
Vol. XXX, No. 1, 2004
"How quick of you to have played the piece so well! Thank you. I heard it and I think you are an artist
you make the guitar sing..... Thank you very much for your support. I am so happy to hear your artistic playing. You have a full control and command of the instrument that you can fully express the sentiment of the music you play."
"I have heard Angelito Agcaoili in his performance of guitar solos and what amazes me is the way he plays my Prelude and Fugue in D minor. It is a piece that guitar players are not very interested, probably due to its difficulty but I was surprised how musically he does it at ease. He also played my other compositions, the kundimans and fantasies for solo guitar such as Iyo Kailan Pa Man, Langit Ka sa Lupa, and Philippine Serenade. These are all challenging pieces. Words are not enough to express my appreciation and praise for this guitar virtuoso."
Angel Peña, composer, arranger and former member of the Honolulu Symphony Orchestra
"There are many facets to Angelito Agcaoili's life journey as a classical solo guitarist, and I am delighted to have been exposed to them and taken part in some of their unfolding. These facets include a strong scholarly bent, the zeal of a trailblazer, keen musical intelligence and insight, dedication to worthy causes, altruism with his musical discoveries, and perfectionism in his art. It is thanks to Angelito that my passion for writing music for solo guitar, which found expression through my first original work, Kapilas na Giting (A Measure of Valor) in 1976, was rekindled. He first came into my life in 1999 while he was finishing up his doctoral dissertation on the Classical Guitar Music of the Philippines. He asked me to compose a guitar work that would incorporate motifs from the music of the kudyapi (a 2-stringed native Philippine lute). That idea excited and challenged me, and the result the following year was Kudyawit (Song of the Kudyapi). I was amazed by the speed and verve with which he had learned this new work. Since then, Angelito had also commissioned Kundimang Walang Titik, (Kundiman Without Words), which I completed in 2002, and Batang Laro (Child Play), a 7-part suite, which I completed in 2005.  I have a new commission from him, another suite for classical solo guitar using one of the Philippine song forms, the balitaw, but subjecting it to a decidedly contemporary treatment. This work is in progress.
   Angelito's  life quest provides an excellent role model not only for Filipino artists but also for other people in general. He chose not to operate within the narrow confines of a traditional performer who in most cases merely regurgitates music from the standard guitar repertoire, but sought out interesting little known works and even commissioned new ones that dare to depart—thankfully—from traditional boundaries. "
Bayani Mendoza de Leon, composer
"I remember you from having seen your very fine performance of my "Five Studies" on YouTube several years ago. You play them very beautifully. I also enjoyed your performances of "Late One Night" and "Missing Her."
Frederic Hand, guitarist and composer, faculty at Mannes College The New School for Music
"Angelito is endowed with great artistic and musical abilities."
Jose Luis Rodrigo
Catedratico de Guitarra
Real Conservatorio Superior de Musica de Madrid